The University of Miami didn't carry the blueblood credentials of the Ivy League colleges that had dominated the intercollegiate polo ranks over the course of the first twenty years of competition, but when it took the field for the first time in 1948, it took it with authority.
Hijacking the trio of J. R. "Speed" Evans, J. Mather and R. Knight from the New Mexico Military Institute, the University of Miami blew through its competition, defeating Cornell in the finals of the 1948 National Championship.
Eighty-year-old Paul Heise was a member of the team in 1949, 1950 and 1951, and took time to reflect on his collegiate polo days. The Milwaukee native is still active in the game, keeping three horses in tow and playing at the Barrington Hills Polo Club in Barrington, Illinois.
"Speed (teammate John "Speed" Evans from Denver, CO) was playing polo that summer (1948) in our area, and I had just finished my freshman year at the University of Wisconsin" recalled Heise.   "After playing against one another in a game, we sat down and had a couple of beers.  Speed told me that his two teammates (Mather and Knight) were leaving and that I should transfer to the University of Miami.  I don't think anyone filled out application papers faster than I did, and that was that."
With both Mather and Knight leaving school the following year, Evans convinced Paul Heise to transfer and Chicagoan Chuck Bernard filled out the squad, and the team played like they had been playing together for years.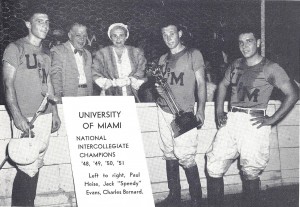 "Mather and Knight were westerners," offered Heise, "they were never at home in Florida and couldn't wait to get back home."
With the addition of Bernard and Heise, they notched three more championships in 1949, 1950 and 1951. The University of Miami Hurricanes did more than dominate the national scene, they obliterated it.
"George Oliver deserved a lot of the credit for our success," volunteered Heise. "He told us what we needed to know, but didn't interfere in a way that would make us think too much."
Oliver was a 9-goal polo player at the time and in the employee of former 10-goaler Michael Phipps.  The former paratrooper was large in stature and provided the leadership for a team that would establish a record that would stand for decades.
Building on the foundation of a 1948 team that went undefeated over the course of the season, Evans, Bernard and Heise extended the unbeaten streak to four years, picking up the national crown each year.
"Speed (Evans) was a natural Number 2," said Heise, "and Chuck (Bernard) was made to play Number 1.  Me, I was most comfortable at Back (Number 3), and that's how we lined up."
"We usually played the early match in the Orange Bowl and were followed by a professional league that consisted of Michael Phipps, Stewart Iglehart, George Oliver and others. It was some of the best polo I would ever see.  You could learn so much just by watching them play," he added.
The success of the Orange Bowl professional polo league was a success, but nothing compared to the success that the three young Hurricane stars would achieve.
In the 1949 finals of the intercollegiate championships, Miami man-handled Yale in a 15-7 victory and registered its 20th straight win in a row in the historic Squadron A Armory in New York.
It was during the 1950 collegiate polo season that Heise met Miami student and future wife, Marion Robinson, who he would marry the following year.
"They were pretty wild days back then," recalls Heise, "and I have to credit Marion with getting me to settle down and concentrate on my academics." Paul and Marion would remain married until her death in 2002.  "I was smitten from the moment we met," he said.  "She will always be the love of my life."
Her effect on Heise might not only have had a settling affect on his academics but his polo as well.
Heise cites the 1950 semifinal win over the New Mexico Military Institute as "the most wide open game of arena polo I ever played."   Playing the defensive-oriented Back (or Number 3) position, Heise remembers that "I never hit so many backhanders in my life".  The win propelled Miami into its third straight championship game.
Bernard and Evans scored four goals apiece in the first three chukkers as Miami built a commanding 8-3 lead over Yale. The 8-5 final score would give the University of Miami three consecutive national championships, and the 1922 trophy would return to Florida once again.
"We'd drive up to Delray Beach to a few days a week," Heise recalls, "or we'd go to a riding academy about six miles south of Coral Gables where there were polo ponies and an arena where we could practice."
The University of Miami polo team was no longer an unknown on the American polo scene.   They entered the 1951 season with a winning streak that dated back to the team's first contest four years earlier, and were a target for everyone they played.
Once again, however, the trio of Bernard, Evans and Heise maneuvered their way through the season without a loss, capping the year's long efforts with a sound, 12-5 win over Princeton in the finals.
Due to budgetary concerns and a lack of support, the four-year-long polo experiment at the University of Miami ended in a most spectacular fashion. Miami remained unbeaten after four years of competition and had captured four consecutive national collegiate polo championships.
As for the rest of the team:
"I lost track of Chuck (Bernard)," Heise said, "he still had one year of college after I graduated. I tried to find him years later, with no success.  Speedy (John Evans) went back to Denver and got married.  I never did see him again, however, we did talk several times on the phone.  He died when he was in his 50s."
There would never again be a team that had achieved a level of success as that of the University of Miami polo team of that era.
This was not the first time that a team had captured four consecutive national championships. A combination of players led Yale to four titles (1923-1926), nor would it be the last time (Yale, 1967-71; U. Cal-Davis, 1981-1985), but it remains the only time in collegiate polo history that a team managed to capture four consecutive national championships without losing a single game.
"Polo has been a godsend to me," said Heise. An active player at the Barrington Hills Polo Club in suburban Chicago, Illinois, he continues to play the game in which he garnered so much success in his youth.  "It has taught me a few lessons as well.  I was surprised to find out that when I picked up the mallet again, seven years ago, I had not lost my skills.  I also learned that a 73-year-old body (at the time) is not as resilient as it was when I was 21.
Heise still keeps three horses that allow him to play regularly.
"I still love the game and will continue to play it as long as I can."
Paul Heise passed away October 26, 2015 at the age of 85, having played the sport he loves to much well into his 80s.