Photo: The winners, Chris Falk, Katie Falk, Gary Magness and Nico Milan
The USA celebrated Presidents weekend of February 18 and 19 and so did Careyes Polo Club as did two of the guests celebrated their birthdays – Ben Kennedy and Scott Lean, an announcer extraodinaire. Four teams gathered for the 3 day weekend to play at the Mexican resort – Costa Careyes which is located 3 hours south of Puerto Vallarta on the Pacific Ocean. Players from Texas, Colorado, Virginia, California and well as Italy, Portugal and Mexico were here to play for the Copa de Presidente.
The format of the 4 teams was each to play each other with the winner declared as the team with the best won-loss record. Teams were made up by the managements as well as some players had organized on their own. Team Magness I/Cabinet Connection with Sarah Magness, Nico Milan, Chris and Katie Falk ended up with the best reord of 3-0 however the last game they played against Lafayett 67/ Careyes with Robert Hinaman, first time player to Careyes, Giorgio Brignone, founder of the club and resort, Luis Perez and Eugenio Clark, another first time player to Careyes, was the finals as if Careyes would won – there would have been a 3 way tie to determine the winner. The other two teams were Austin Polo/Agua Alta – Ben Kennedy, Cuatro Tolson and Matt Wiechert – both first timers to Careyes and Alberico Ardissone and Magness II with Gary Magness, Raul Ramirez, Ernesto Ramirez and George Sandu. These 3 teams all were tied with won-loss records and were separated only by ½ goals. Lafayette67/Careyes had plus ½ net goal, Austin Polo had zero net goals and Magness II has -1/2 goal. All were presented with a toast of Tequila and silver Mexican spurs. A perfect way to end the day.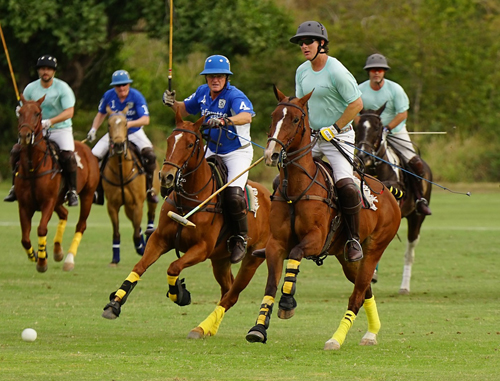 Careyes Polo is from November 15th through April. Our next tournament for the season is centered during the 7th Annual Arte Careyes Film Festival. The Polo Club will then host the 18th Annual Agua Alta which has 10 goal and 6 goal polo – April 7 to the 15th followed by Junior Week with Columbian Polo School Bocheritos. Please see www.careyes.com or contact susanstovall@careyes.com.mx or giorgiobrignone@yahoo.com.mx